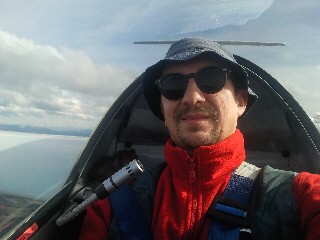 IGC Pilot Ranking ID:
5432


Name:
André Louistisserand
Age:
59
Nationality:
FRA
Ranking Position:
2865 up 81 places.
Rating Points:
586.9 unchanged since 30 Sep 2022.
Home Club:
Besancon
Occupation:
energy engineer
Click here to login to the system and amend your details.
Pilot's sponsors:
No sponsor information provided
Description:
Silent self launcher introduced me to a very easy and pleasant way of flying.
| | | | | | | | | | | | | | |
| --- | --- | --- | --- | --- | --- | --- | --- | --- | --- | --- | --- | --- | --- |
| Values at 30th September | 2010 | 2011 | 2012 | 2013 | 2014 | 2015 | 2016 | 2017 | 2018 | 2019 | 2020 | 2021 | 2022 |
| Ranking Points | 698.4 | 752.6 | 740.6 | 731.7 | 727.7 | 729.9 | 765.6 | 752.0 | 723.9 | 660.5 | 630.5 | 605.3 | 586.9 |
| Ranking Position | 1513 | 1190 | 1286 | 1312 | 1409 | 1380 | 1163 | 1185 | 1491 | 2101 | 2499 | 2705 | 2946 |
| Total Pilots in Ranking List | 4768 | 5200 | 5215 | 5175 | 5242 | 5270 | 5355 | 5533 | 5486 | 5488 | 5194 | 4921 | 5535 |